The other day as I was loading up a list of spelling words to
Spellingcity.com
and realized that there are
handwriting worksheets
avaliable. Not only are there handwriting worksheets avaliable BUT you can make them to go w/ what ever spelling list you want. There are so many options to create your list. I am so excited over this. If you could see my face while I type this, I am grinning from ear to ear!!!
Ok let me see if I can explain all the choices.....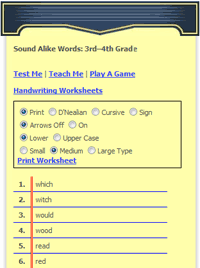 I know the picture is fuzzy but I wanted to enlarge it so you could see. You can choose from print, d'nealan, cursive, and get this SIGN. Yep that is sign as in sign language. You can print out a sheet that will show you each letter of the word on your spelling list in the hand sign for sign language. That to me is too neat.
You can then choose to have the arrows on or off. That is the arrows that show your child which way to make the pencil move.
You can choose to have the words all in upper case or lower case.
You can also choose small, medium or large for the right size for your child.
This is a great bonus for our schooling to help w/ Biggun to work on his cursive writing/reading and to practice his spelling words too.
If you have younger kids you can use the
Dolch-Sight Words
list to not only do spelling games but also to do handwriting worksheets too.
Lil' Momma