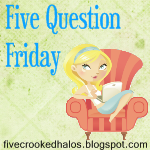 Questions for Friday, October 22: (Special thanks to
Pam
,
Bethany
[wowza, Bethany!! you came up with so many good ones, I had a hard time choosing!! Thank you!],
Sandy
,
Katie
, and [inspiration from]
Wombat
for their question suggestions! Do YOU want to be linked in a future 5QF? Do you have any burning questions? C'mon over to
my community
and offer them up!!)
1. Who is the better cook, you or your spouse?
I guess we are about the same. When Big Daddy cooks it is pretty good. But then neither of us is a fancy chef.
2. How often do you talk to your mom?
About once a week sometimes more. Now I talk to my Daddy about every other day. Can you tell I am a Daddies girl?
3. Are you adventurous in the kitchen or stick to the recipe?
A little of both. If I have never made the recipe I try to stick to the recipe. But if I am making it a second or third time I will try to change it up a little and make it my own.

4. Is your second toe longer than your big toe?
((Blushing)) yes it is. Why, does that mean something?

5. Do you dress up for Halloween? (Bonus question: What will you be this year?)
We do not do Halloween in our family. We try to either go out to dinner or the movies on Halloween so as not to be home on Halloween. Last year we went grocery shopping.
Lil' Momma