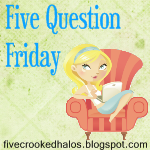 Rules for 5QF
: Easy as pie!! For real...easiest blog hop around! Just copy and paste the following questions to your blog post, answer them, then c'mon back tomorrow am (bright and early) for the linky and link your post up! If you don't have a blog (or already wrote a post), but still wanna join in...just leave your answers in the comments.
Remember... the is linky open until Sunday night!
Questions for Friday, October 8th:
(Special thanks to Colleen [Colleen, you need a blog!!],
Jesslyn Amber
,
Chrissy
,
Nel
, and
Tiffany
for their question suggestions! Wanna be linked in a future 5QF? If so c'mon over and offer up your best question suggestions!!)
1.
What do you listen to while driving?
We usually have a book on CD going for the kids. We check them out at the library. If I am in the car alone (not very often) it is either country or christian.
2.
What is your least favorite thing about Fall?
When it ENDS!!! I wish it was FALL year round!!!
3.
What does your dream house look like, inside and out?
Oh wow that is a loaded question. Here is an idea of what I would love to have...
Love the two stories and the wrap around porch, but I would want it on a few acres of land.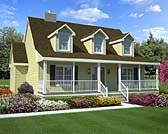 The kitchen would look something like this...
4.
Would you ever own a minivan?
Finally am a proud owner of a minivan. I love my minivan. I think that every person who has little children should have a minivan. I love my mini van! It has automatic doors. With a push of a button the back doors open. This is great in Florida so you can cool off the car faster, even do it from the front door.
This is a real pic of my beautiful mini van while the other house pics are from other places, not mine.
5.
Do you wash new clothes before wearing them?
No, I am never patient enough to wash them first. I don't get new clothes enough to be patient to wait till they get washed and dried.
Lil' Momma