Wow it has been a long time since I have done a Five Question Friday!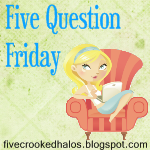 1. H
ow close to your childhood dreams is your life now?
Pretty close! All I can remember when I was little was I wanted to be a Mom. I got that dream come true 3 fold.
2.
What is one must have item for the summer?
Every family needs a KIDDY POOL! What would summer be like w/o a Kiddy Pool? Even if you have a big pool you need a kiddy pool to just soak your feet in while you watch the kids play!
3.
Do you have your kids stay up on school stuff during summer vacation? (Or, if you don't have kiddos, did your parents make you keep up on school stuff during summer?)
Since we homeschool we school year round to keep from loosing any knowledge we might have learned.
4.
Do you can or freeze fresh produce?
We use can produce mostly.
5.
Do you get ready for the day first thing in the morning?
Not first thing in the morning but when I first get up I try to get dressed with in like a half hour of being up and out of bed.