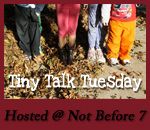 We made cup cakes, after Honey begged and begged for them. We had the small plate of cupcakes sitting on the counter. I had planned on putting them away before I went to bed. But before I could, Honey came to me and said
"Mommy, you get a paper and write No Ants and No Flies. "
Now we don't have ants or flies so I am not sure where that came from. But the girl seemed to think that both ants and flies could read. Who new?
_____________________________
Biggun and Honey talking about birds.
Biggun - A chicken is a bird.
Honey - NO! a chicken is a CHICKEN not a bird!
Aren't you glad Honey cleared that up for you?
Lil' Momma