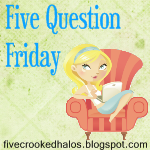 Rules for Five Question Friday:
Copy and paste the following questions to your blog post, answer them, then watch for the
linky
post to appear tomorrow morning! And remember...HAVE FUN!! This is a fun and easy post, so enjoy it!!
Questions for Friday, November 12
th
:
(Special thanks to
Bethany
, [inspiration from]
Pam
,
Sandy
,
Liz
, [inspiration from] Colleen for their question suggestions! If YOU would like to be linked in a future 5
QF
,
c'mon
over to my community and offer up your best questions!)
1.
What is the most physically painful thing that has ever happened to you?
The recovery after my second c-section. Had a reaction to something and ended up w/ a skin yeast infection from my neck to my knees. Between the c-section pain itself and that I about went crazy. (same thing happened after the 3rd s-section but I was ready for it mentally)
2. How much sleep do you get at night?
7-8 hours usually but there are days when I only get 6
.
3.
How long did you believe in Santa Claus? How did you find out that he does not exist?
I honestly don't remember. I had older sisters and they would always tell me if I did not believe in Santa then I did not believe in my parents. As a child that scared me. How can I not believe in my parents?
4. What was the last movie you saw in a theater?
It has been so long I honestly don't remember. I know not doing good w/ these questions today but the last movie I would have even tried to attend would have been when I was pregnant w/ Honey and that was almost 5 years ago.
5. What do you wear to bed?
I have a pair of men's gym shorts that someone gave my son that do not fit him. But they are soooo comfy I took them for myself. As for my top it is usually a xl t-shirt of mine or one of my sweet hubbies t-shirts.
OK so I did not do so good on these questions not remembering much, old age, kids and well kids will do that to you. Would love to hear your answers!
Lil' Momma