Well it has been a rough couple weeks w/ sickness and all so here a I am finally back for Five Question Friday.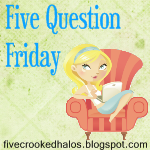 Rules for 5QF: Copy the following questions to your blog post, answer them, then watch for the linky to appear Friday morning and link up!!
Oh, and make sure you have lot's of fun, too!!
1. What's on the top of your holiday wish list and why?!
Not really any one item on the top my wish list. There are some simple things on my wish list this year for me. Not that I expect to receive any of them. Here are a few
Do you see a theme here?
Then there is this a netbook.
so I don't have to share my mac anymore. Lastly there is a NEW camera! anything new will do, but this would be nice.
2. What is your favorite Christmas gift from the past?
I don't know if I have a favorite Christmas gift but my favorite all time gift I have received for my Birthday/Mothers day was my front porch swing. I really enjoyed that swing. It lasted me 3 years. I swang two babies on that swing. It was wonderful!
3. If you had life to do over, what would you be when you grow up?
I would not change a thing. I love being a Mom. I would just not have to work part time. So I could be a full Mom. I would also dream for funds to be able to do extra things with my kids.
4. When do you put up your tree?
I try to put it up the first weekend of Dec. cause if I am going to deal w/ the hassle of putting up a tree and decorating I want the FULL month to enjoy it.
5. What is your favorite Holiday?
Holidays are touchy around our house. My husband is quit the scrooge when it comes to ALL holidays even birthday/anniversaries. I think this is due to the fact that he always has to work on holidays. So my favorite holiday would have to be the holiday that we can have my husband home from work and not be stressed over money.
Lil' Momma