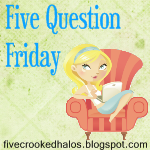 Questions for Friday, December 10th: (Special thanks to @harmonysong, @thecoolestwife,@mom2xover2002, Colleen, and Pam for their question suggestions! Toss out your best question suggestions to my on twitter [@5crookedhalos] or in my community!)
1. Do you open presents on Christmas Eve or Christmas Day?
Usually we have family and friends over on Christmas Eve after the candle light service at church to enjoy birthday cake for Jesus. After that we started opening one or two gifts but the past two or three years we have opened all of them because my husband has had to work on Christmas day. Since we don't do Santa that is not a problem in our house. Big Daddy does not have to work on Christmas this year so we will have to wait and see what will happen.
2. What is your favorite Christmas cookie (or candy)?
Oh there is no question. My neighbor Ms. Aunt C. (that is what the kids call her and my kids call me Mz. Aunt B.) makes the peanut butter cookie with the chocolate kiss in the middle for me every year at Christmas. I look forward to a plate of these wonderful cookies every year. I don't know what she does to make them special but she sure rocks on those cookies!!!!
3. What's the worst Christmas gift you've ever received?
Is there really such a thing as a bad gift? I guess not getting a gift would be the worst gift. Cause anyone can give their time as a gift if they don't have money. So off the top of my head I can't think of any gift that I have ever gotten that has been bad.
4. Christmas song that you love?
Oh this year the new
Where's the Line to See Jesus? by Becky Kelley
has become my favorite. My next favorite is Mary Did You Know?
5. How many trees do you put up?
How many? Really? I can barely handle putting up just ONE tree Can't imagine putting up more then one.
---------------------------------------------------
Lil' Momma