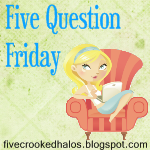 Rules for 5
QF
:
Copy and paste the following questions to your blog, answer them, then watch for the
linky
to appear tomorrow (Friday) morning!
Questions for Friday, December 31st:
(Special thanks to
Sharayha
,
Sandy
,
Pam
,
@Simply_BC
,
@
gasfamily
for their question suggestions! If you would like to be linked in a future Five Question Friday, just shout out your question suggestions to me in my
community
or via twitter (@5crookedhalos)!
1.
How long does your Christmas tree stay up?
I just took the tree down today. I try to get it down by Jan 1.
2.
Do you have plans for New Year's Eve?
I have not had real plans on New Year's Eve in years. Sad I know, but most of the time Big Daddy has to work on New Year's Day and he has to sleep. My son on the other hand has a standing invite over to his best friends for New Years Eve every year. Lucky kid, play games, eat, dance around, eat, play more games, to be a kid is the life.
3. Do you have any New Year's resolutions?
Not a resolution but a word theme for the year, you can read more about it on my blog FOCUS in 2011.
4. How did you spend New Year's Eve when you were younger?
From when I was a little kid we would play card games and watch the ball drop. As a teenager we would have friends over, play games and watch the ball drop. As a young adult we would play cards with friends. As a middle aged adult I just sit at home watch the ball drop. I know I live an exciting life.
5. What was the best way you've ever spent New Year's Eve?
My best New Year's Eve was spent playing cards with my parents and my husband. We have such a good time when we play cards. I wish we did it more often.
Lil' Momma