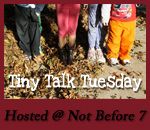 Honey comes running in the house all out of breath...
MOM MOM MOM, us us us us found (whisper voice now) ants by a big block!!!!!

Moose is saying Mamamamamama....
I tell her to look with her eyes so they don't bite her.
5 minutes later....
Honey comes in....
MOM MOM MOM, you look with your eyes when you were a little kid?
You not get bit when you where little kid?
Now when I went out to see the ants under the big block. I found only a few ants under a little brick. But hey it is all from a different perspective through the eyes of a 3 year old.
Lil' Momma