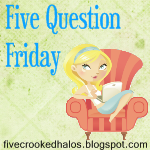 Questions for Friday, January 21st: (Special thanks to @thecoolestwife,Sharayha, Rachel, Angela, and Sandy for their question suggestions! If you would like to be linked in a future 5QF, head on over to my community to offer up your best question suggestions (We need more! Please!)! Feel free to shout 'em out on Twitter, too! [@5crookedhalos]...if you remember, try to use the hashtag#5QF so they are accessible for ever!!)
1. Where did you meet your spouse and did you instantly know it was love?
Short version - We met in highschool, band to be exact and I new it was love from the start.
Long version - Read our story HERE.
2. What is your f
avorite room in your house?

I guess the room I like best is the living room, due to that is the room we spend the most time in together as a family. But I would not say I have a favorite room in our house at all. Our house needs updated and is very garage sale furnished. So there really is not style so if you ask what room is my favorite to look at I would have to say none. But what room I like to spend time w/ my family in the living room.
3.
Can you wiggle your ears?
4.
What is your evening ritual?
After my Big Daddy goes to bed at 9pm (He gets up between 1-2am), Biggun then goes to bed by 9:30ish and the littles will start to settle down. (they are night owls as am I.) I will then relax and blog or crochet. Watch my shows on the computer and off to bed by 1 or 2 am depending on when Big Daddy gets up for work.
5.
How many hours of sleep do you need to function?
5 to 6 to function but 6-8 to feel good about facing the day.
Lil' Momma